Man Utd vs Southampton - Preview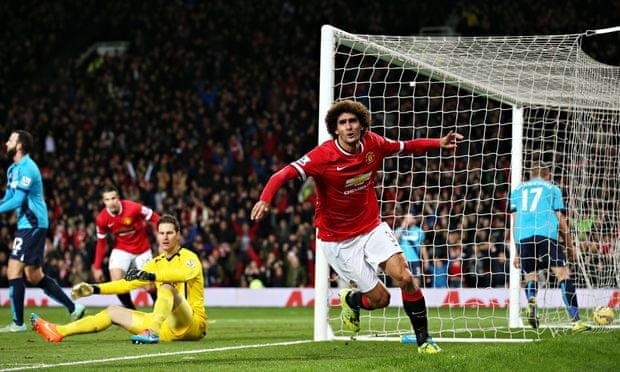 Four wins on the trot! Van Gaal has finally steadied the ship! We have benifitted from the return from injury of Carrick and Herrera, a steady back four, Fellaini in top form as the box to box midfielder, Young and Valencia rediscovering their form, flair and speed down the flanks, and the derby villian Smalling has come back bossing our defence. Oh did I mention Rooney and Falcao are both available for the game tomorrow??
United are at the moment fifth in tge league with the opportunity to go third on Monday and close the gap on Chelsea on top. Chelsea along with a bunch of bigger teams drop points yesterday.
I never bought into the invincible Chelsea bein sold in the media everywhere. They have dropped points earlier in thr season and eventually will have to contend with injuries as well which will test the depth of their squad. They are only
11 points ahead of us. We can make it 8 tomorrow.
Selection & Formation:
4-2-3-1
LVG will keep the same back four as our last few matches. DDG, the hero at Stoke, at the back with Valencia, Rojo, Smalling and Young as the four defenders. Rafael might be given a start ahead of Young but is more likely to be on the bench.
Carrick and Fellaini will sit just ahead of the defence.
Rooney, Herrera and Mata will be up the three behind the lone striker RVP.
It is the same lineup as we had against Stoke. That means the formation will be fluid, can go from 4-2-3-1 defending, or switch to the 4-4-2 diamond like we had at Stoke.
Opponents:
Southampton will be missing Jack Cork who is out for almost 6 weeks. Toby Alderweireld is also a doubt after he limped off with an apparent hamstring injury against Arsenal.
They are widely seen to be punching above their weight and have had a fit squad and an easy run up of fixture in comparison than others. That being said injuries seem to be mounting for Ronald Koeman and tougher fixtures lie ahead for the Saints.
Prediction:
2-0 United to keep the streak going.
---
---